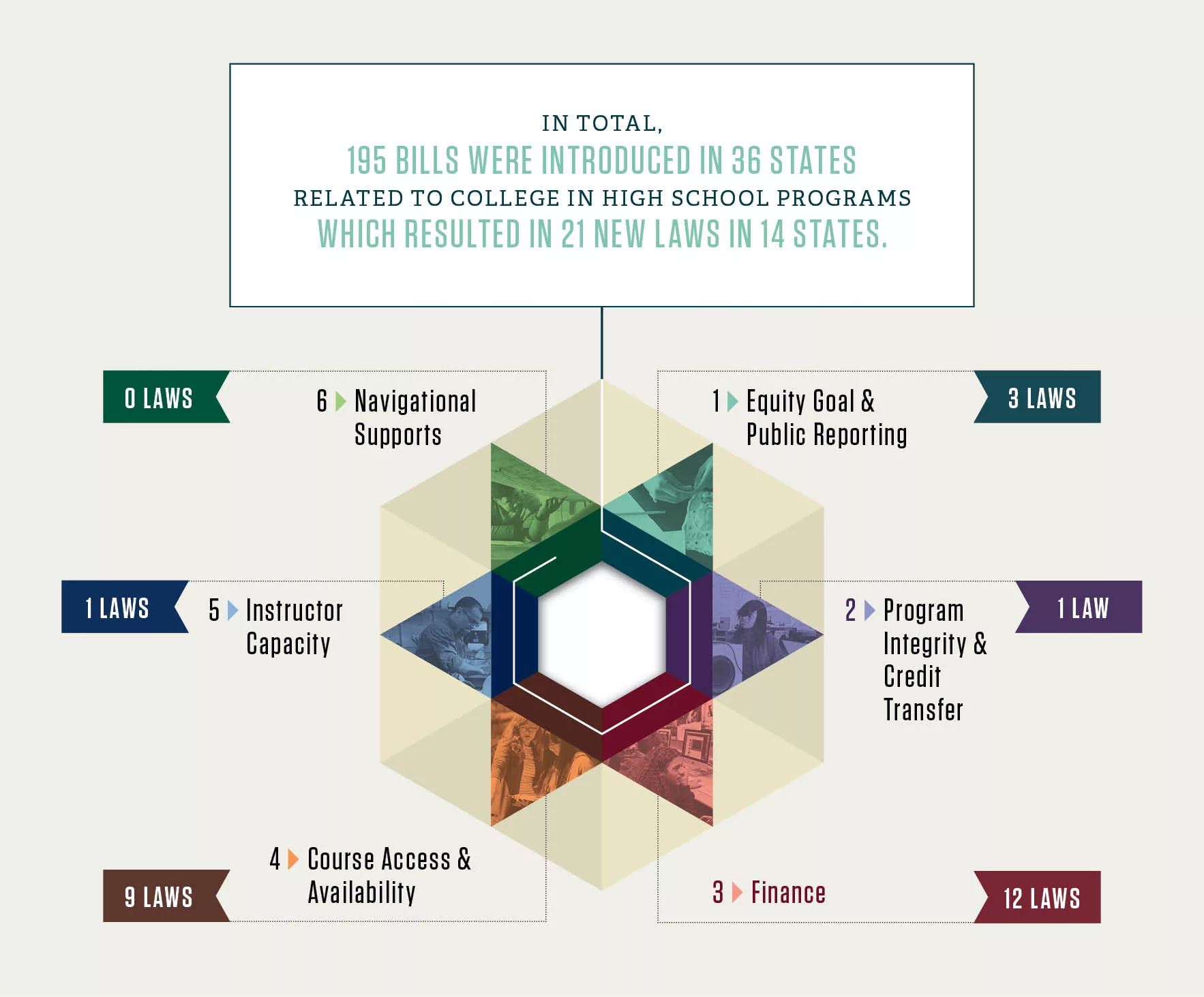 In January 2021, CHSA released a 2020 Year in Review for our State Legislative Tracker. This policy resource summarizes the new state laws adopted in 2020, and summarizes the key trends.
Despite the COVID-19 pandemic disrupting legislative sessions across the country, 2020 was an active year for legislation impacting college in high school programs such as dual enrollment, concurrent enrollment, and early college high school. In total, 195 bills were introduced in 36 states related to college in high school programs, which resulted in 21 new laws in 14 states.
Using the College in High School Alliance's framework for state policy explained in breaking down the enacted laws by the six categories of the framework shows that the biggest areas of activity this year were in Finance and Course Access and Availability.
Notable New Laws:
Louisiana HB734 – Following the work of the Louisiana Dual Enrollment Task Force, HB734 was signed into law and creates the Dual Enrollment Innovation and Equity Grant for the purpose of assisting and encouraging high schools and public postsecondary education institutions to implement dual enrollment programs that provide equitable access and expanded participation.
Utah SB151 – The law creates a funding formula for early college programs and provides for funding distribution formulas for early college programs to prioritize increasing access for groups of students who are underrepresented.
Other Trends:
The most sweeping law impacting college in high school programs in 2020 was also the most controversial law adopted last year. In an attempt to reduce the costs attributed to a significant expansion in new student enrollments, the Georgia legislature passed HB444 to place limits on the number of credits that will be paid for by the state. The bill was strongly opposed by many supporters of college in high school programs in the state for its approach.
In response to the COVID-19 pandemic, state agencies and regulators took a number of decisions to accommodate students and programs impacted by the pandemic, including through providing state-level guidance or through regulatory changes.
Summaries of each of the new laws impacting college in high school programs are included in the appendix. For summaries and more information about all of the bills introduced in 2020, visit the College in High School Alliance's State Legislative and Regulatory Tracker.