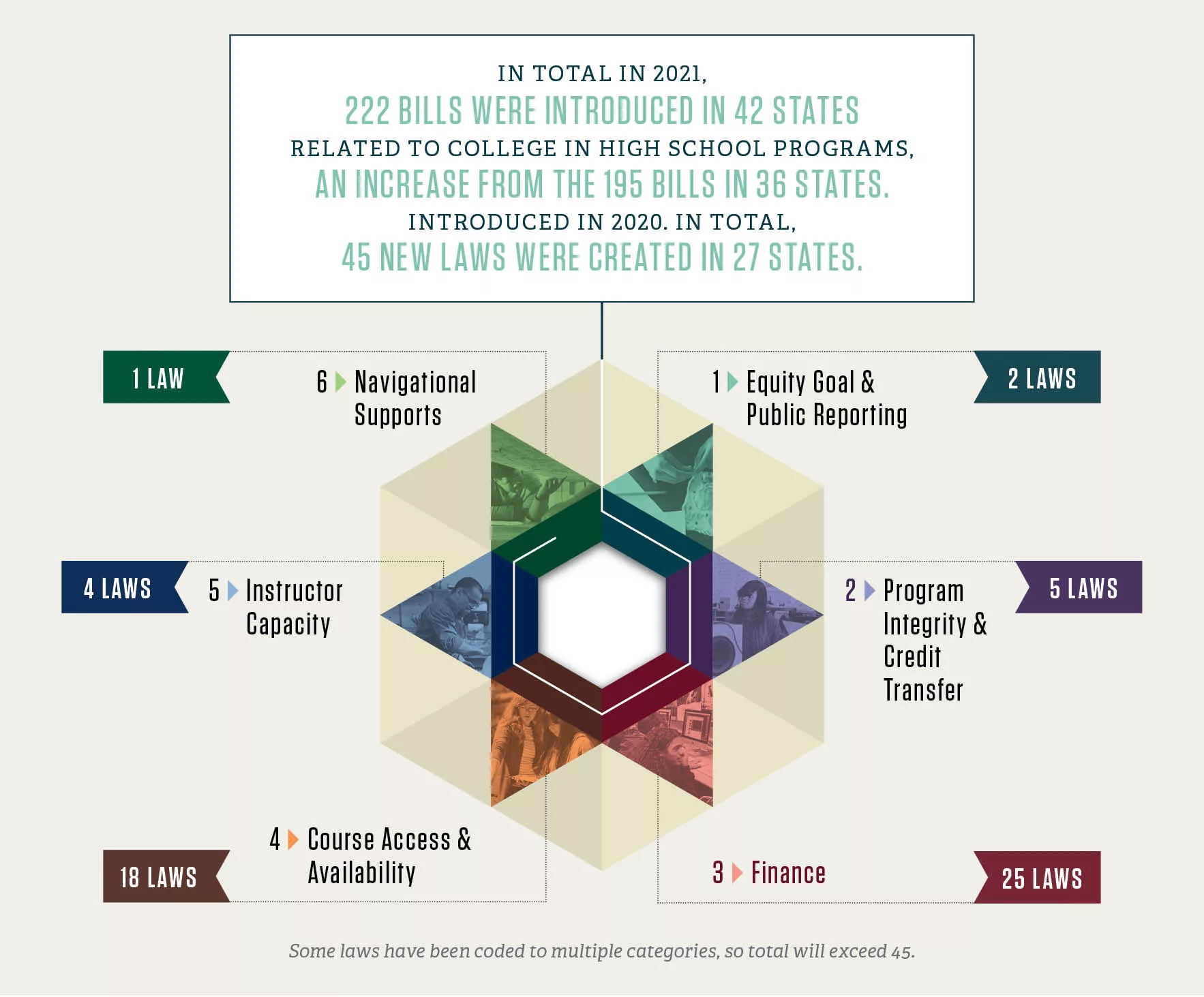 In January 2022, CHSA released a 2021 Year in Review for its State Legislative Tracker. This policy resource summarizes the new state laws adopted in 2021, and summarizes the key trends.
With a bounce back of state legislative sessions last year following the significant disruptions caused to state legislatures by the COVID-19 pandemic in 2020, 2021 was a more active year than 2020 for legislation impacting college in high school programs such as dual enrollment, concurrent enrollment, and early college high school.
Using the College in High School Alliance's framework for state policy explained in Unlocking Potential: A State Policy Roadmap for Equity and Quality in College in High School Programs, breaking down the enacted laws by the six categories of the framework shows that the biggest areas of activity this year were in Finance and Course Access and Availability.
Notable New Laws:
Other Trends:
In addition to significant new legislation this year to advance equity of access and success to college in high school programs, there has also been a lot of regulatory work in some states, such as Ohio, Florida, and Louisiana in 2021 around reforming statewide eligibility criteria for these programs. In each state, efforts are underway to create new eligibility criteria following the states' experience with more inclusive criteria during the height of the COVID-19 pandemic.
This year also saw a number of states choose to direct funding from historic investments provided by COVID-19 relief money, such as through the American Rescue Plan, towards college in high school programs. This included in Colorado, where under SB21-268, which directed American Rescue Plan funding to the Concurrent Enrollment Expansion and Innovation Grant Program.
Summaries of each of the new laws impacting college in high school programs are included in the full resource.
For summaries and more information about all of the bills introduced in 2021, visit the College in High School Alliance's State Legislative and Regulatory Tracker. The database will continue tracking all new bills and regulatory actions in 2022.