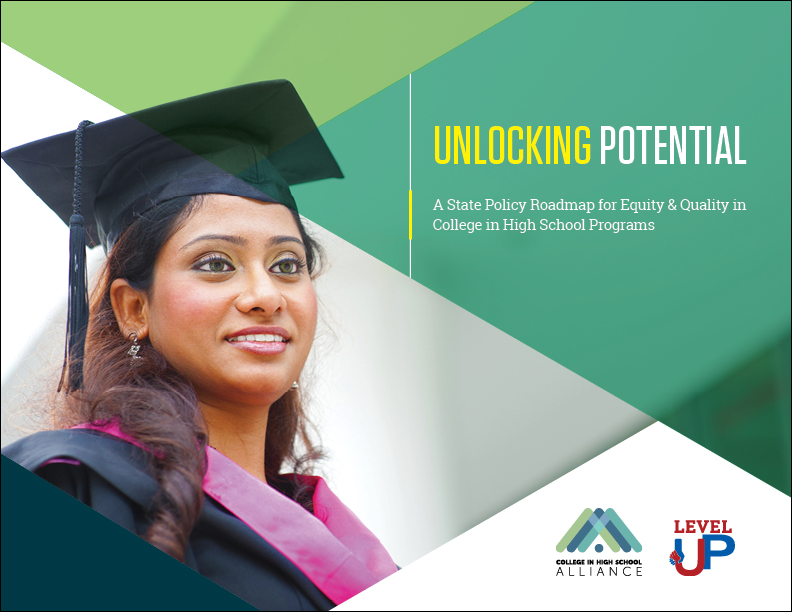 CHSA and the Level Up coalition have published Unlocking Potential: A State Policy Roadmap for Equity and Quality in College in High School Programs. This resource can serve as a roadmap for states that want to design policy that drives meaningful change in access, equity, and quality for college in high school programs.
To help states build a policy framework for college in high school programs that will close equity gaps and promote quality, Unlocking Potential details six critical components and provides policy recommendations for each:
equity goal and public reporting
program integrity and credit transfer
finance
course access and availability
instructor capacity
navigational supports.
The report also highlights examples from 28 states that have taken steps to build strong state policies.
September 2020 Addition:
CHSA has also released three state profiles of states that have a number of recommended policies already in place across the six framework categories of Unlocking Potential. Click through to read state profiles of Colorado, Indiana, and Washington.
In addition, if you prefer to download each section of the report individually:
On Monday December 9, 2019, CHSA and the National Governors Association hosted a webinar entitled "Improving Dual Enrollment Equity and Quality: Lessons from the States." A recording of that webinar can be viewed here.