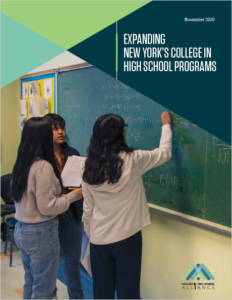 In December, 2020, CHSA released Expanding New York's College in High School Programs. This report explores the history and current landscape of college in high school programs in New York.
In addition, the report identifies key areas of need for increasing equitable access to and impact of these programs, and makes policy recommendations in response to these areas of need.
The recommendations discussed in the report are:
Define college in high school programs, particularly dual enrollment (DE), early college high school (ECHS), and Pathways in Technology Early College High School (P-TECH), in New York state code.
Create a recurring state funding stream linked to an oversight process for college in high school programs.
Report on state designated DE, ECHS, and P-TECH programs.
Allow postsecondary achievement during high school to count towards graduation requirements.
Facilitate effective transfer of credits earned in college in high school programs between public colleges and universities.