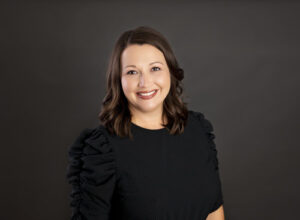 Stacy Edds-Ellis has worked in higher education for 17 years and currently serves as the Dean of Academic Affairs for Owensboro Community and Technical College (OCTC), where she leads the Division of Professional and Technical Studies. In this role, she oversees career and technical academic programs, administers Perkins grant funding, maintains programmatic and regional accreditations, and oversees the dual credit program. Her areas of expertise include career and technical education, K-12 partnerships, advocacy, grant writing and management, leadership, mentoring, curriculum alignment, and accreditation.
A commitment of innovation and excellence in higher education has defined Edds-Ellis's career. Edds-Ellis has managed a number of federal, state, and local grants. She facilitated a $1.8 million US Department of Education Title III Strengthening Institutions grant focused on supplemental instruction. Edds-Ellis has been involved in creating educational opportunities for high school students throughout her career. Under her leadership, OCTC was the second institution in the Southern Association of Colleges and Schools-Commission on Colleges to receive accreditation from the National Alliance of Concurrent Enrollment Partnerships (NACEP). Edds-Ellis also worked with local secondary school partners to create an Early College program that in four years has grown from six to over 180 students. To create opportunities for all students, Edds-Ellis spearheaded the effort for the Early College program to be a part of the US Department of Education's Dual Enrollment Pell Experimental Site Initiative.
Edds-Ellis teaches graduate courses in Organizational Leadership at Western Kentucky University, where she received the 2019 University Award for Part-time Instruction.
She holds a PhD in Administration and Organizational Development from the University of Louisville. She completed an MA in Organizational Communication and BA in Corporate and Organizational Communication at Western Kentucky University.
Her personal interests include traveling, reading, blogging, and photography. Edds-Ellis and her husband Clay, along with their nine-year-old son Cooper, and one goldfish named Shark are proud to call Owensboro, Kentucky home.