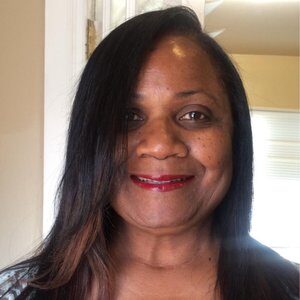 For over 35 years, Mattie Adams-Robertson has been dedicated to the field of education as a pioneer in assisting students in reaching college preparation goals. Some of Mrs. AdamsRobertson's career highlights include her work for several secondary schools in the Los Angeles Unified School District having served as mathematics teacher, counselor, assistant principal, principal.
In 2002, Mattie opened Harbor Teacher Preparation Academy (HTPA) on the campus of Los Angeles Harbor College as one of the first Early Colleges in the world. A few of the accomplishments at HTPA under Principal Adams-Robertson include: Students earning a dual Associate Arts Degree at over a 55 percentile rate; 95% of graduating seniors completing at least one year of college by the time they leave high school; National Blue Ribbon School-2008; National Title One Achievement Award-2010; California Distinguished School Award-2007 and 2011; State of California Title One Academic Achievement Award-2006, 2007, 2008, 2009 and 2010; AYP 10/10, API 935, CAHSEE 100% pass rate, Attendance Average 97%, and Drop Out Rate 0%.
In 2014, the US News and World Report recognized HTPA with a gold medal ranking number 15 in the state and 100 nation-wide. Students from HTPA are featured in a number of videos beginning with the ECHSI video, "Opportunity for a Lifetime". Mattie and HTPA were a part of research studies completed by the Bill and Melinda Gates Foundation, NCREST and Jobs for the Future Foundation. After more than fourteen years at HTPA, Mattie used her talents to pioneer Compton Early College in 2015. In 2019 their entire Inaugural graduating class was accepted into four year colleges.
Mattie has served the Dual Enrollment community for over 17 years. She has shared her expertise with conference presentations at convening's for: Bill and Melinda Gates Foundation, Middle College National Consortium, Council of Great City Schools, California Coalition of Early and Middle Colleges, and California Association of Black School Educators. One of Mattie's strengths is the creation of four year plans that guarantee students successful transitions into Career Pathways. HTPA and Compton Early College both utilized this strategy resulting in high student success. Another one of her strengths is the implementation of the Peer Review program. In 2004, Mattie introduced the HTPA staff to the Peer Review process, designed to provide peer support through reflection and evaluation. The peer review program also promotes professional growth and development by encouraging teachers to analyze their own professional practices. HTPA had the largest number of participants in this professional growth model which continues to build on teaching strategies using reflection.
Mattie has served on the executive board member of the Middle College National Consortium since 2012. She was on the founding board of California Coalition of Early and Middle Colleges. She has also been integral in the development of California Association of Black School Educators. Currently, Mattie works as an educational consultant and a national presenter on replicating early/middle colleges and enhancing college and career readiness through dual enrollment. As a volunteer, Mattie dedicates numerous hours to schools, church and community.